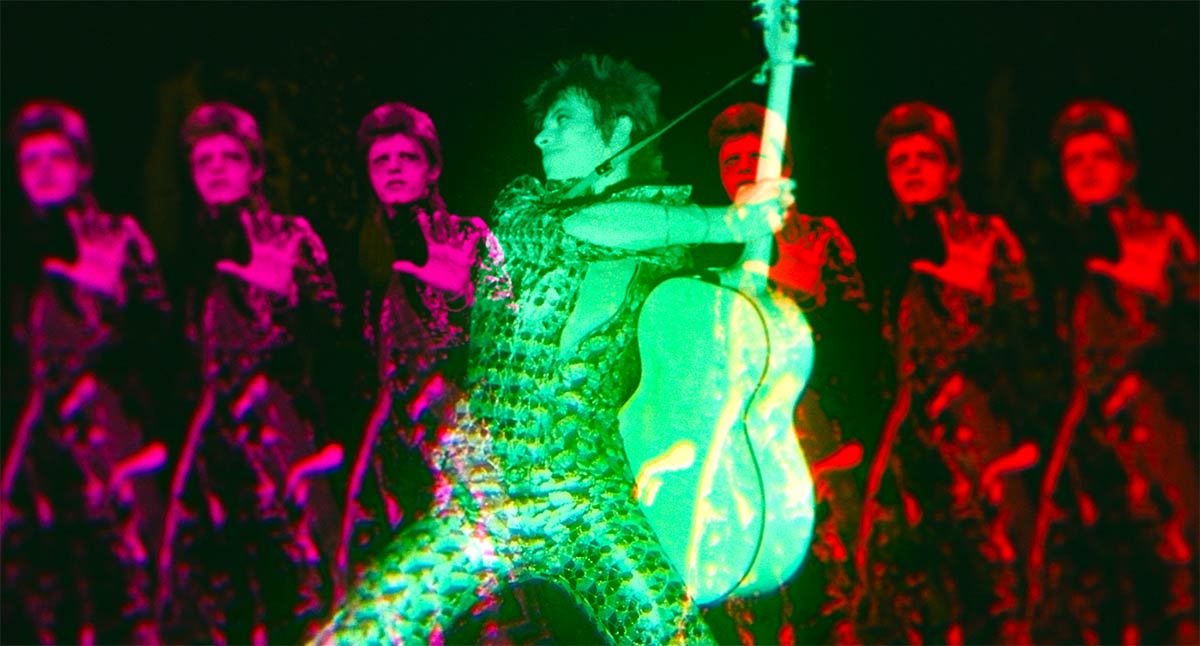 Brett Morgen teleports you to planet David Bowie in a musical space extravaganza [Cannes]
The vast majority of us could only aspire, before "Lunar Reverieto get into the spirit of david bowie — the character, the artist, the terrestrial entity not yet confirmed. Eclectic, shamelessly maximalist and variously philosophical: it's all true of both the man himself and Brett MorganThe feature-length docu-odyssey, which borrows its title from the 1976 hit, and has just made its debut as part of Cannes' midnight slate. Fifty years of Bowie's career are spanned here, from the time he hit the ground running and found a fervent fan base with tears in his eyes and hands up, to his return to the the cosmos in the early 2010s. The scope narrows in the final third, as Morgen seemingly recedes into a more comfortable linear timeline – the last twenty years of his life have passed just as quickly as the first – but whew, c It's one hell of a Technicolor ship.
Starship is not just lofty rhetoric. It's no surprise that the enigma who wrote and recorded 'Space Odyssey', 'Starman' and 'Life on Mars' is presented, above all, as a being from another planet, watching over Earth from the Moon. We then head to one of Ziggy Stardust's early gigs – as Bowie was known early on – in the 70s, cut against outtakes and reels from an assortment of silent films. Think "Nosferatus" and "Metropolisin order to convey Bowie's sci-fi nature, his metamorphosed sensibilities, his fuck-the-heteros androgyny. He generally goes ahead from here but he talks, in an early voiceover, about the amorphous nature of time; reflecting Bowie's zigzag temporal philosophy, Morgen cuts images of the artist from decades closer to the present. It's an exciting way to present a man who has defied the shackles of time, whether for genderfuck, his avant-garde lyricism or his outspoken bisexuality.
Any Bowie document authorized by his estate, of course, having access to his vast discography – as well as rarefied deep cuts that have rarely met the light of day and many hours of archived concert recordings – enjoys a head start on the artist's musical. verve. Rarely is a person who could sit in such a ravishing soundscape as in "Moonage Daydream," a sonic collage of full tracks, patterns, ethereal acapella, and catchy instrumentals, without enthusiastically pumping a fist or of them ; you don't need a splash of red lightning splattered across your face to be absorbed in the vibe. Morgen, music producer Tony Visconti and music publisher John Warhust have done wonders here, curating a diverse playlist of the familiar and the novel, cutting out beloved bits to make the known distinct.
It's a concert film in memory film form, an archive of Bowie's shows cut from appearances in TV interviews, strolling the streets amidst gaping passers-by, darting from airports to places in a baby blue suit with gold sunglasses like a bonafide rock star. Morgen's images are often enriched with bright, shimmering colors of deep sapphire and rich scarlet; candid Polaroids are juxtaposed with delighted Bowie fans, fingers reaching for their messiah with all their might. If anyone has ever forgotten Bowiemania in the last twenty years of their life, as the chameleon shed its skin to become a flesh-and-blood man, allow Morgen to tell you. remember: it wasn't just the Beatles.
That's not to say the whole thing is a two-hour-and-twenty-minute puff piece. Your mileage will vary depending on how much time you have for the eloquent subject matter about Nietzsche and the nature of art, or his general air of nihilism. Morgen ostensibly includes a clip in which Bowie claims that he, like many of his rockstar peers, from the aforementioned Liverpudlian boys to Mick Jagger, are inventions of the feverish public mind. It's not just that their celebrity is artificial: Bowie doesn't exist, or so he argues, but a product of collective perception. The tension between the star and the self is not new ground to cover, but to hear it from the horse's mouth in such an assertive way, if one can ignore the bit of obnoxiousness, is material fascinating.
Exhilarating musical extravagance aside, it sounds like the fundamental point of "Moonage Daydream": that this extraterrestrial being, this creature from another dimension, this singular product of the multiverse, was in fact none of these but a fallible man. But hey, nobody needs to be more than human. Art is not by nature Promethean, but the product of human beings determined to be heard – and sometimes, at best, with something to say. [B+]