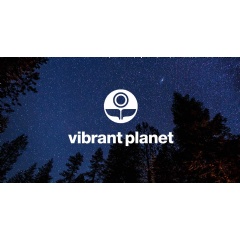 Netflix, Meta and Lyft Alumni Launch Vibrant Planet with $17M Seed Funding to Prevent Catastrophic Wildfires
Vibrant Planet will use the funding to expand into new markets in the United States, Europe and beyond, unlocking the full benefits of forest restoration

Vibrant Planet, the creator of the Forest Restoration Operating System, today launched and announced a $17 million funding round led by Ecosystem Integrity Fund, The Jeremy and Hannelore Grantham Environmental Trust, with participation from Valia Ventures, Earthshot Ventures (a venture capital fund backed by Emerson Collective, John Doerr, Tom Steyer, Microsoft and others), Elemental Excelerator, Cisco Foundation, Data Tech Fund, Day One Ventures and Halogen Ventures. The angel investors include two of Silicon Valley's leading platform builders: Meta chief product officer Chris Cox and former Netflix chief product officer and current Vibrant Planet CPO Neil Hunt. New funding will allow Vibrant Planet to grow its team with strategic new hires and expand its platform to restore forest resilience in the western United States, Europe and other at-risk forests around the world .
Vibrant Planet is the premier operating system that provides organizations, state and federal agencies, and land managers with a comprehensive platform for forest treatment planning, decision support, monitoring and reporting, and prioritization of investments. This technology allows multiple stakeholders to collaboratively plan forest health treatments in months rather than years while meeting a target budget and qualifying projects for carbon financing from companies with net zero goals.
While public sector funding to support fire risk reduction and forest restoration is growing, there is no existing infrastructure to help prioritize where and how efforts should be used to maximize impact. With Vibrant Planet, landowners and natural resource managers, organizations and administrations can:



Create real-time forestry treatment scenarios, using AI-generated tree and house-level data




Prioritize where and how finance should be used to minimize risk and maximize carbon, water and biodiversity benefits




Develop comprehensive treatment plans in collaboration with stakeholders




Monitor/report on landscape conditions and restoration progress




Adapt strategies and tactics based on tracking information




Develop fire-safe, verified forest carbon projects that help companies achieve net zero goals
In California alone, 6.5 million of its 33 million forested acres have burned in the past two fire seasons. More than 1.3 million acres of California forests suffered high-intensity fires that killed all or most aboveground biomass. For these landscapes, forests can take decades to centuries to recover, if at all. To mitigate the impacts of worsening wildfires, rapid and large-scale implementation of targeted forest management is needed to ensure forest health and protect surrounding communities. Vibrant Planet is the solution, empowering stakeholders to make the strategic decisions needed to restore forests at risk around the world.
"From regulating weather to harboring biodiversity to sequestering vast amounts of carbon, the resilience of forests is central to the proper functioning of our planet, yet the world's forests are being destroyed at a devastating rate. "said Allison Wolff, CEO of Vibrant Planet. "The consequences of inaction are dire and impact all life on our planet. We have worked closely with more than 100 scientists, natural resource managers, emergency responders and leaders of nonprofit organizations to co-design our land management carbon decision support, monitoring and finance platform, and we are excited to implement it with partners in several key CA watersheds. support from our investors, we can work to extend its reach to the ecosystems and communities that need it most before it's too late.
"A recent United Nations report on global forest fire trends showed that too little investment is being made in pre-fire forest management or post-fire ecosystem restoration," said Dr. Hugh Safford, chief scientist of Vibrant Planet. "As the world answers the call to rebalance investments from reactive and short-sighted firefighting towards more proactive, ecosystem-based preparations for wildfires and their effects, it is essential that managers , decision-makers and investors have access to comprehensive and up-to-date information – up-to-date information on forest restoration and risk reduction needs and opportunities Vibrant Planet has built a platform that catalogs and prioritizes this information, in the context of ecosystem services and forest resilience.
"Vibrant Planet seizes the opportunity to bring modern cloud-based technology, remote sensing, AI/ML and intuitive user-centric design to create systems that dramatically reduce the time and cost of taking decision-making in forests and the development of carbon credits to help fund the interventions needed to restore forest health and resilience," said Dr. Neil Hunt, Product Manager at Vibrant Planet. "Our fantastic cross-sector team is on a mission to help solve a critical problem and integrate nature-based solutions into the solution to climate change and ecosystem degradation."
The urgency to restore the resilience of the world's major forest ecosystems has never been greater. Human survival is directly dependent on the health of our forest lands. 70% of water comes from forests and 80% of terrestrial biodiversity is hosted by forests. Forests store a third of the carbon emitted by humans each year and play an important role in regulating global weather patterns. Vibrant Planet focuses its efforts on ecosystems where climate change is hitting hardest, such as the highly biodiverse but highly threatened forests of California and the Mediterranean climatic regions that are home to most of the world's population. Forest management scenarios generated in real time by the company's software quantify the financing needs and workforce capacity required to implement restoration projects, as well as the potential carbon benefits , water and biodiversity, are all key to unlocking multi-benefit forest carbon finance.
"By working with Vibrant Planet, we have been able to work with partner organizations and local governments to design larger-scale forest resilience projects," said Tahoe National Forest Supervisor Eli Ilano. "Not only are we planning on a larger scale, but we are doing it collaboratively. The tools we use with Vibrant Planet help us bridge the gap between data/science and planning/implementation.
To learn more, visit: https://www.vibrantplanet.net/
ABOUT VIBRANT PLANET
Founded in 2020, Vibrant Planet, a public benefit company, operates data-driven, cloud-based decision support and monitoring software to help make communities and ecosystems more resilient to climate change . The Company's proprietary technology provides organizations, land managers and government agencies with a comprehensive platform for treatment planning, monitoring and financial allocation guidance. Vibrant Planet's platform strives to support net zero goals through verified projects for carbon finance. Vibrant Planet works to restore and enhance the ability of natural ecosystems to support essential ecosystem services – such as carbon storage, clean water supply and biodiversity – by helping planners, decision makers and investors to identify and prioritize investment opportunities and implement management solutions in critical forest landscapes. worldwide.
This news content may be incorporated into any legitimate news gathering and publishing effort. Linking is allowed.
Press release distribution and press release distribution services provided by WebWire.